Events of the Church of Annunciation Cranston, RI
Upcoming Events
February 7, 2021 - Godparent/Godchild Sunday




Past Events
Webinar in Honor of the Protection of the Environment, featuring Rev. Dr. John Chryssavgis and Dr. Lee Ann Clements
The Saint Photios Greek Orthodox National Shrine, located in Saint Augustine, Florida, is delighted to present a special webinar presentation with Rev. Dr. John Chryssavgis entitled, "Covid-19 and the Renewal of the Earth," on Tuesday, September 1, 2020, at 7:00-8:00 PM ET, the Feast of the Indiction. The event is hosted online by the Department of Inter-Orthodox, Ecumenical and Interfaith Relations of the Greek Orthodox Archdiocese of America. The free broadcast will be live-streamed and open to all (pre-registration required). After the panel, a question and answer session will take place.
The webinar is part of a dual observance shared between the Saint Photios Greek Orthodox National Shrine and The Roman Catholic Diocese of Saint Augustine. Both Orthodox Christians and Roman Catholics observe the day as a special remembrance of Creation and for the Protection of the Environment.
Register for the live event: https://goarch.zoom.us/webinar/register/WN_LjdoDIFnR-a9l8sqX9R10w
Good Friday Retreat - April 17, 2020 at 2:30 PM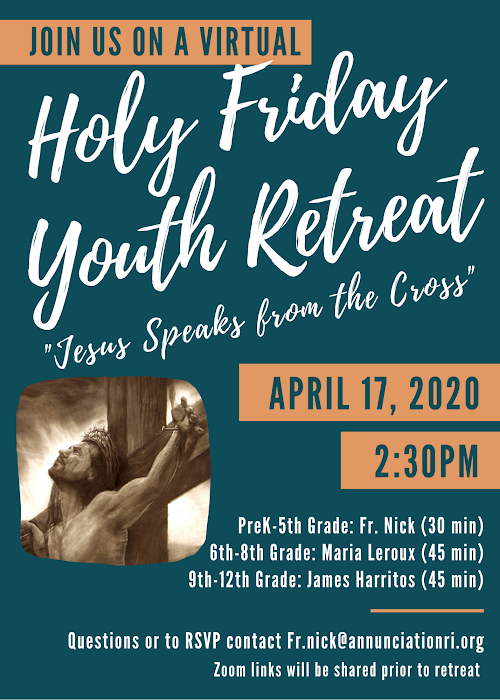 Two "Agape Circle" Groups Began March 4 & 7, 2020
Agape Circles are Christ-centered group discussions that foster spiritual growth, empathy, love and deeper friendships between the Agape Circle participants. Please call the parish office (401) 942-4188, to register.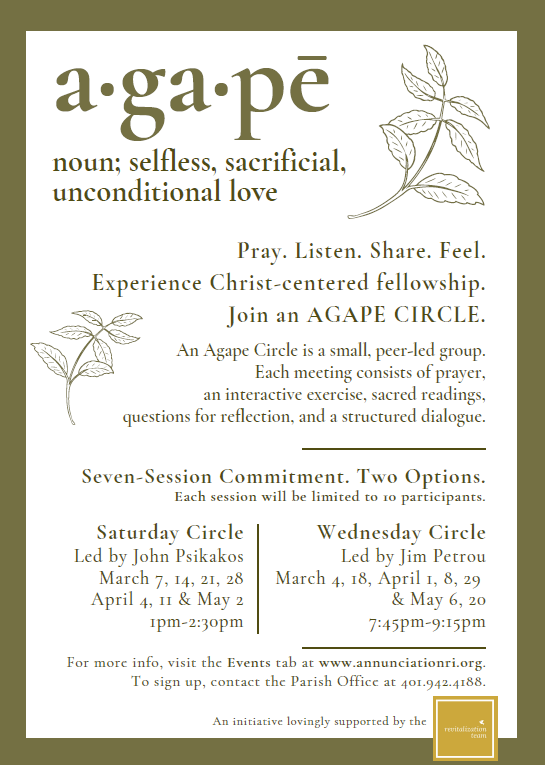 BeeTreat - February 29, 2020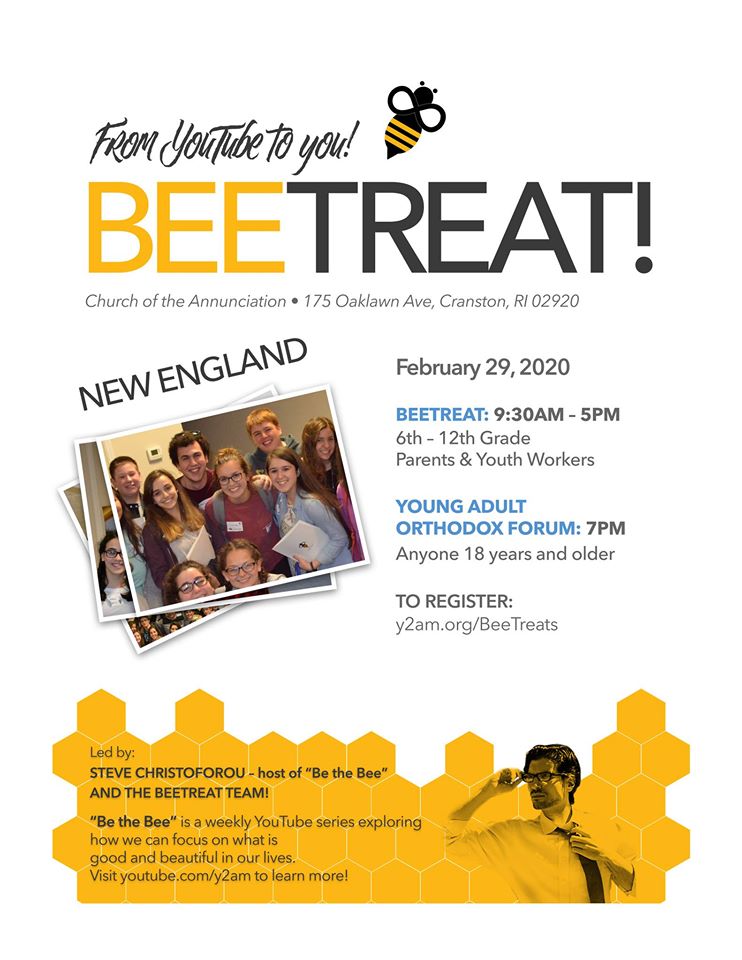 Greek Glendi - February 8, 2020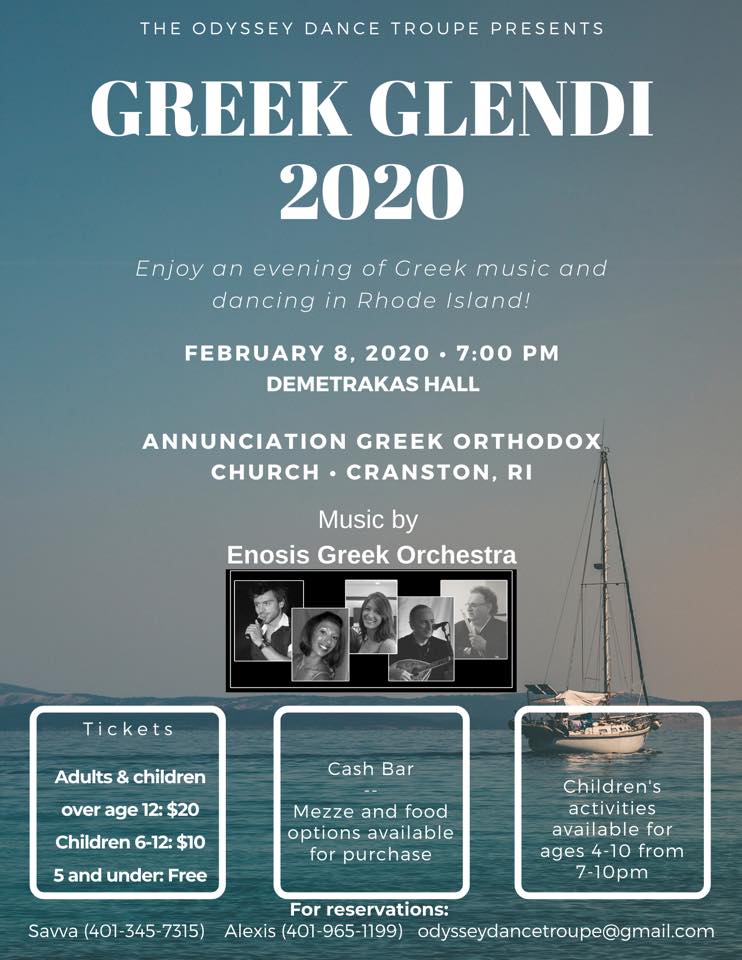 Orthodoxy on Tap - January 27, 2020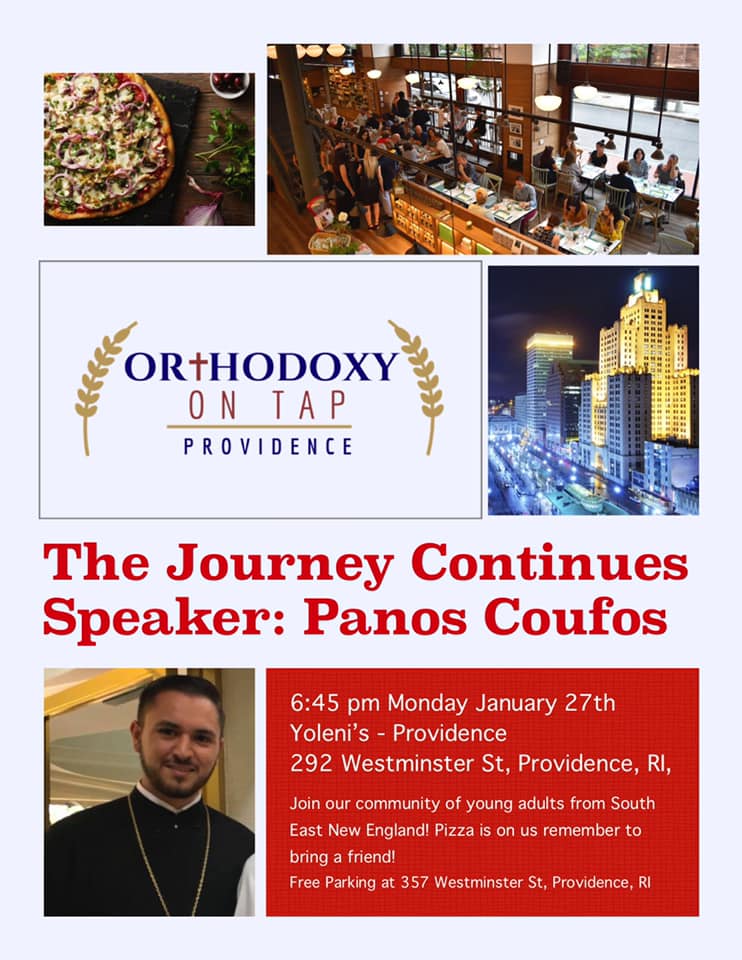 Blood Drive - January 26, 2020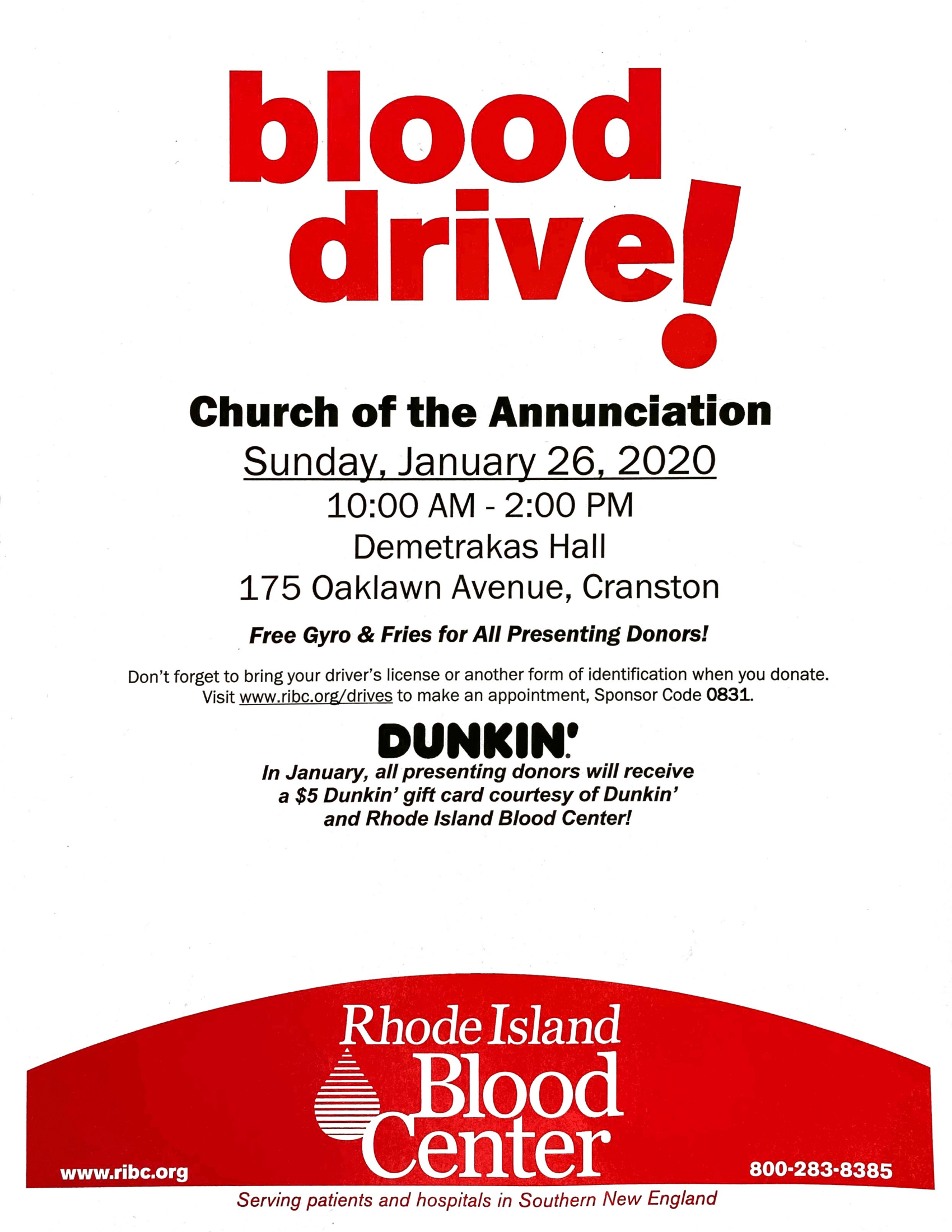 Bible Bee - January 26, 2020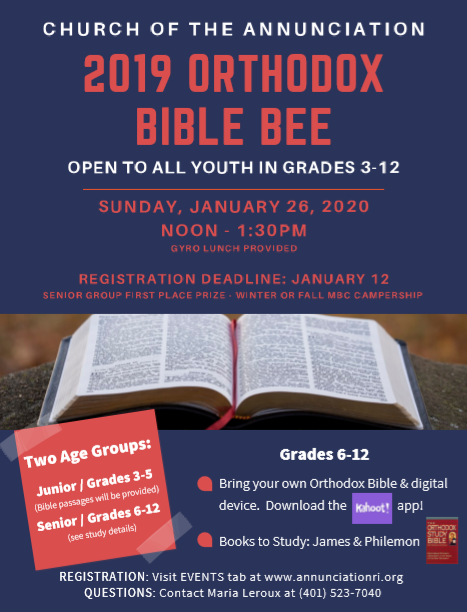 To register, sign up using the forms link, below, by January 12:
https://forms.gle/zt35ksqQhsHu4nyJ8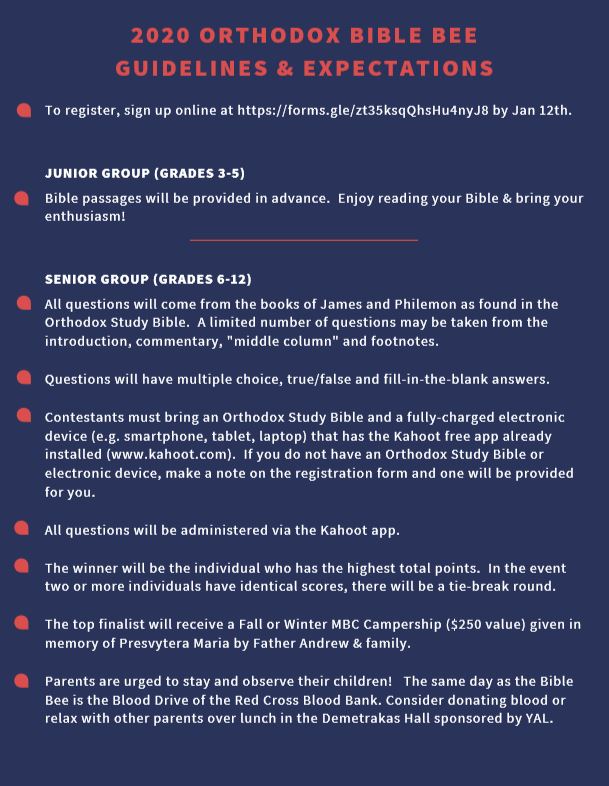 New Year's Eve Party 2020

Let's celebrate the New Year 2020!
Tickets can be purchased during coffee hour on Sundays or online at: https://annunciationrinye.eventcombo.com.

Purchase tickets by December 29th. Tickets will NOT be sold at the door.
Questions: Contact Maria Leroux (401-523-7040) or Patty Andriotis (401-741-5293).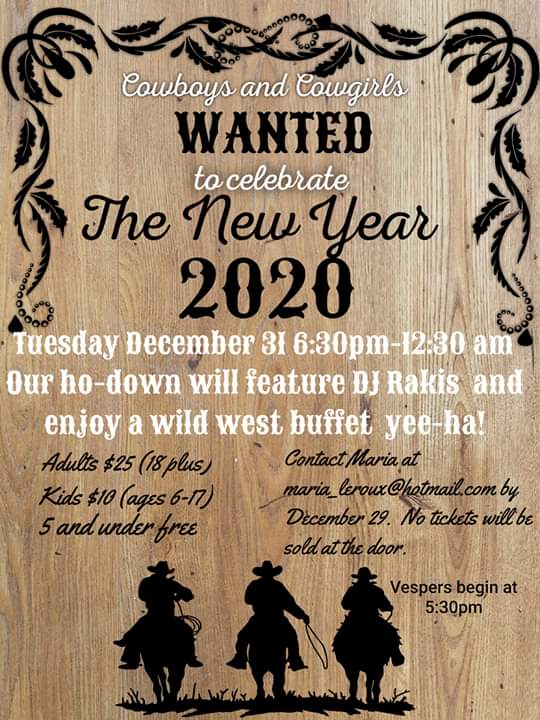 "The Roots of Christian Mysticism"
October 17 through December 5
Thursday Night Series, 7:30 PM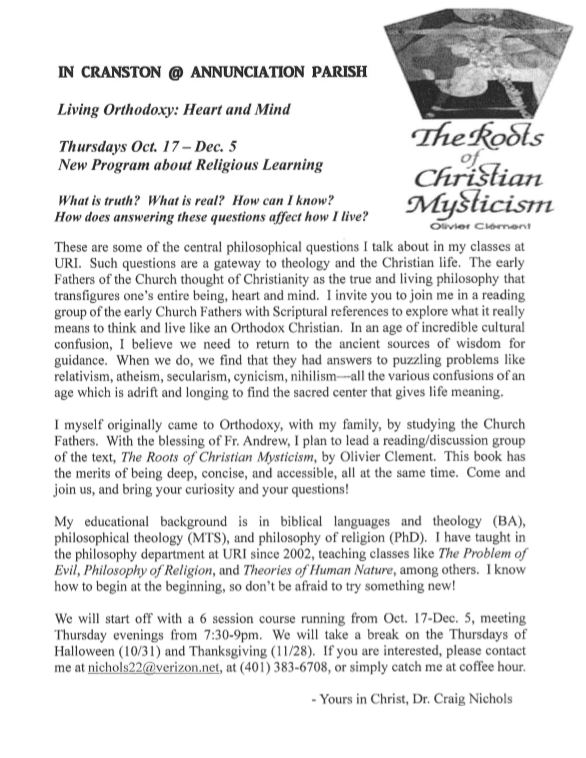 Big Screen Movie Night—Sat. Nov. 16, @ 7:00 pm
Admission is Free—Sponsored by The Revitalization Initiative Team
Featuring "Beautifully Broken"
Beautifully Broken is an amazing, heart-grabbing movie with scope and universal truth based on the true story of the convergence of a refugee's escape, a prisoner's promise, and a daughter's painful secret.

In this touching, authentic true story of hope, three fathers fight to save their families. Their lives become intertwined in an unlikely journey across the globe, where they learn the healing power of forgiveness and reconciliation.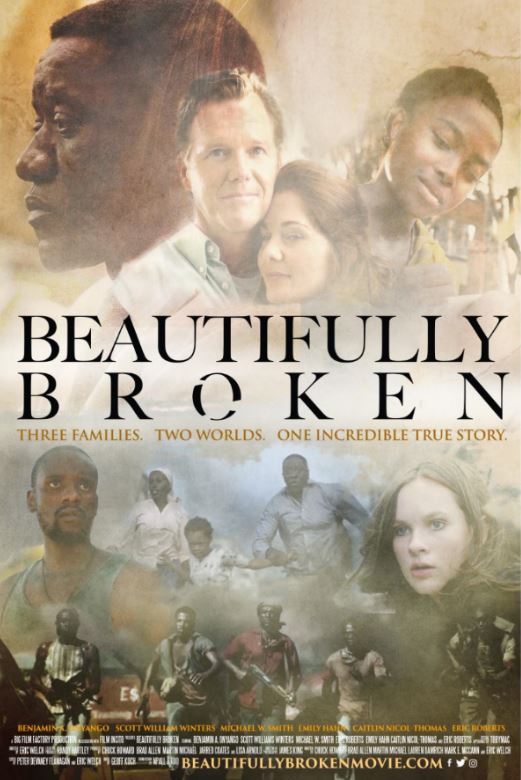 2019 Greek Food Fair & Christmas Bazaar
November 2 & 3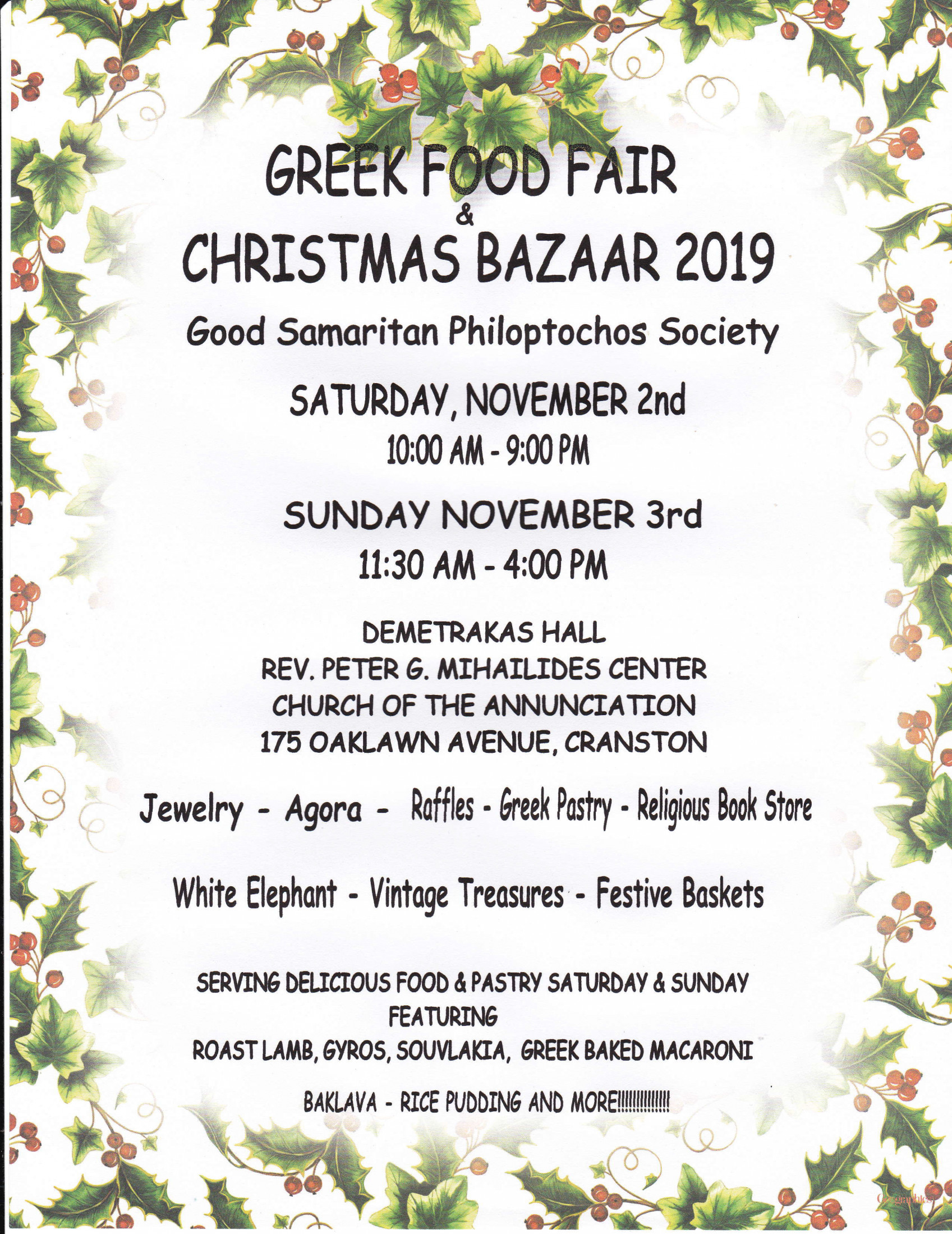 October 20, 2019 - 5 PM at Pawtucket Greek Parish - Assumption of the Virgin Mary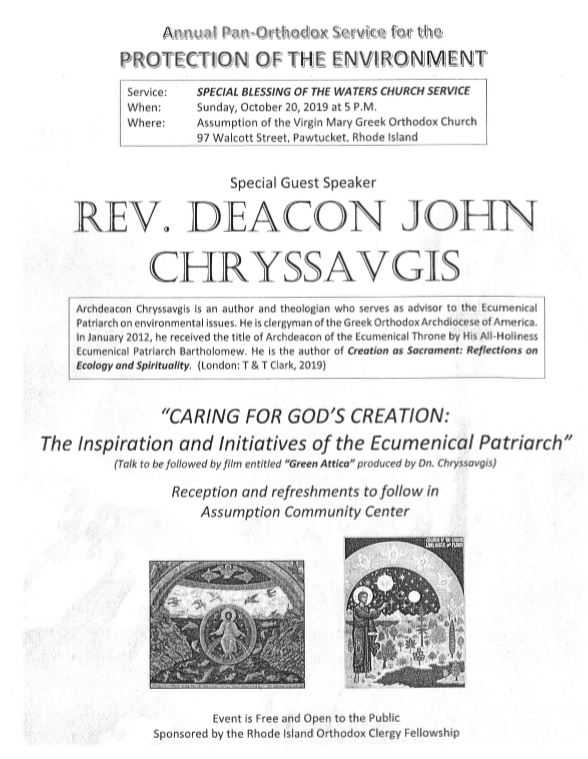 October 13, 2019 - Presentation on Guatemala Field Mission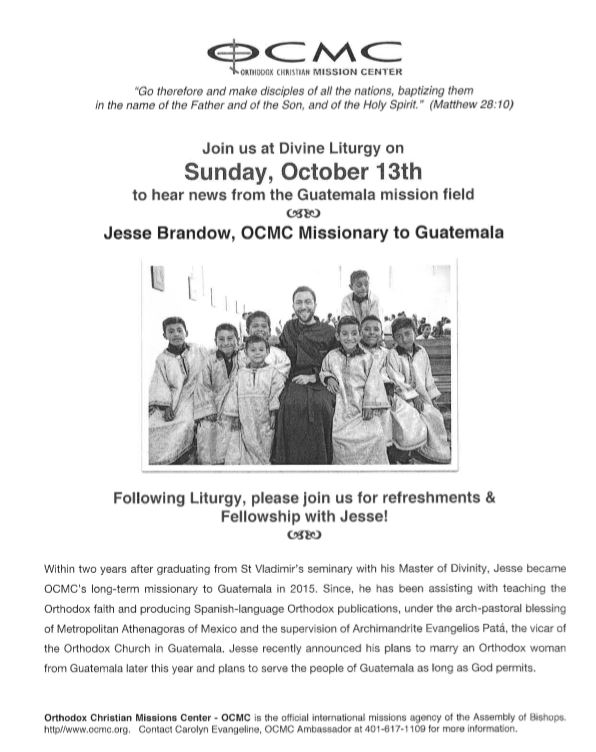 October 9, 2019 - Faith & Fire Discussion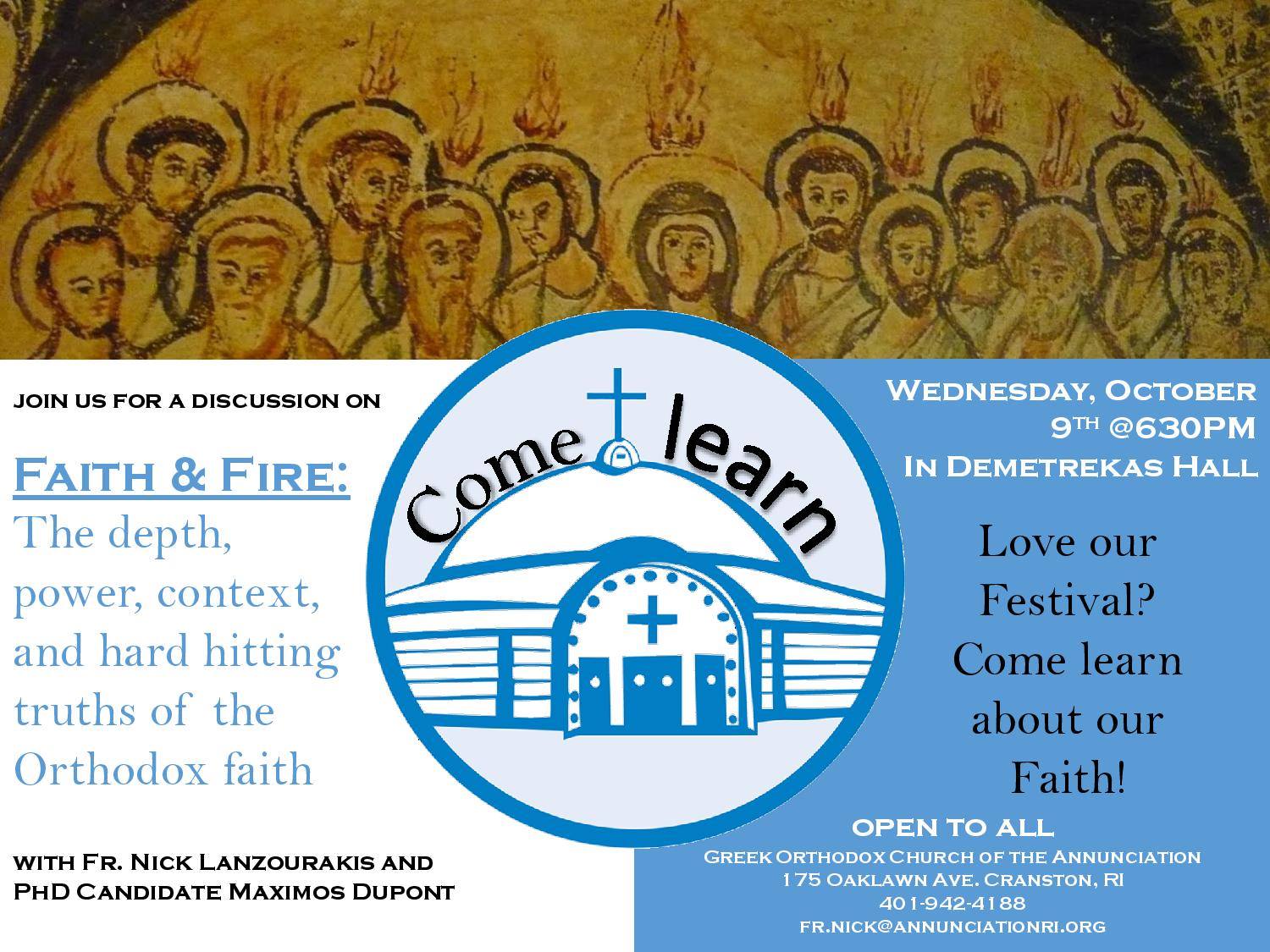 All-English Teaching Liturgy
Saturday, September 21, 9:30 AM
Everyone in the Cranston Area is Invited to Worship with Us & Learn About the Eastern Orthodox Christian Faith.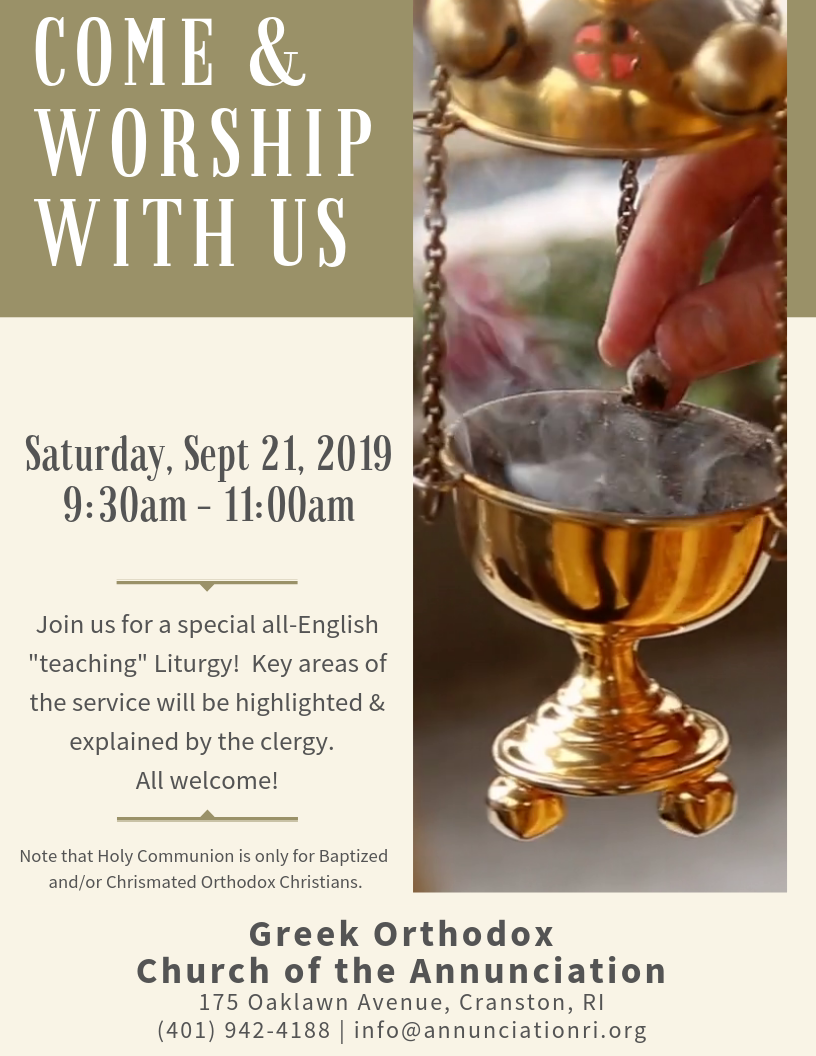 Screenagers
September 26 & 27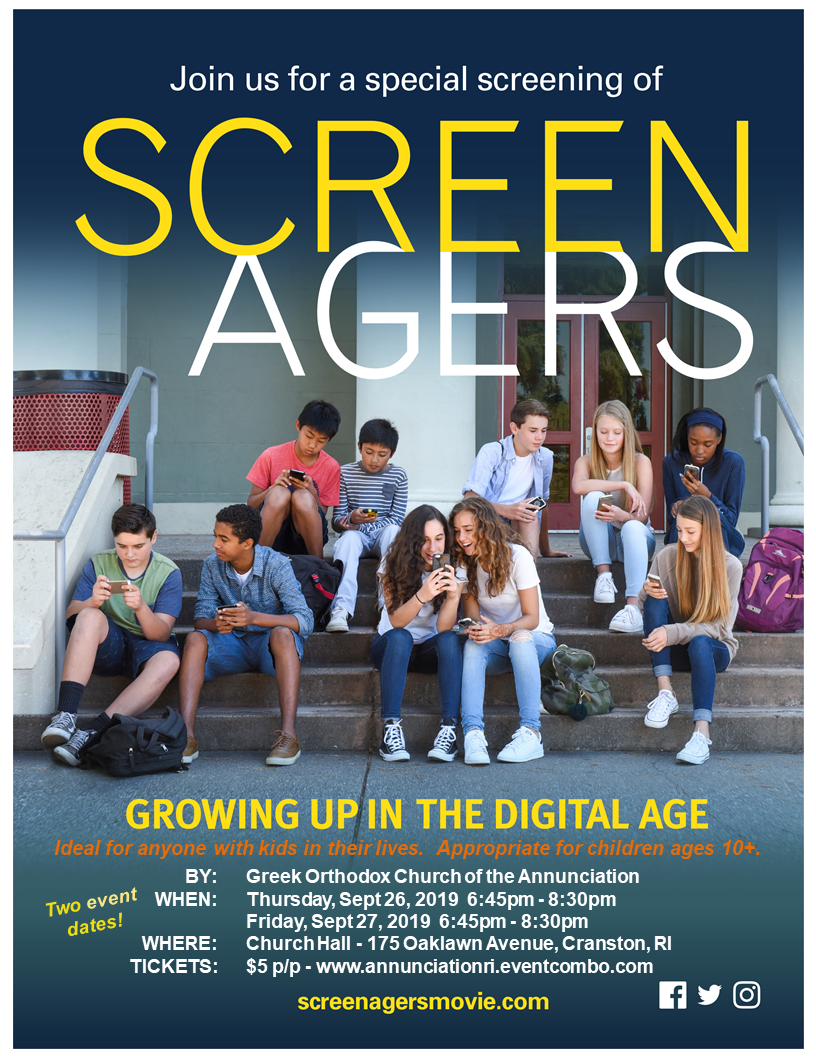 Greek Festival, September 6, 7 & 8
The Official End of Summer in Rhode Island!™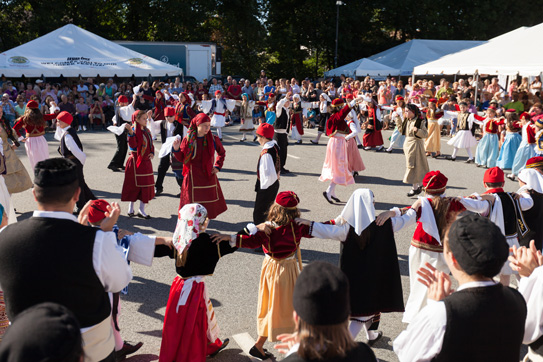 Saturday July 27, 2019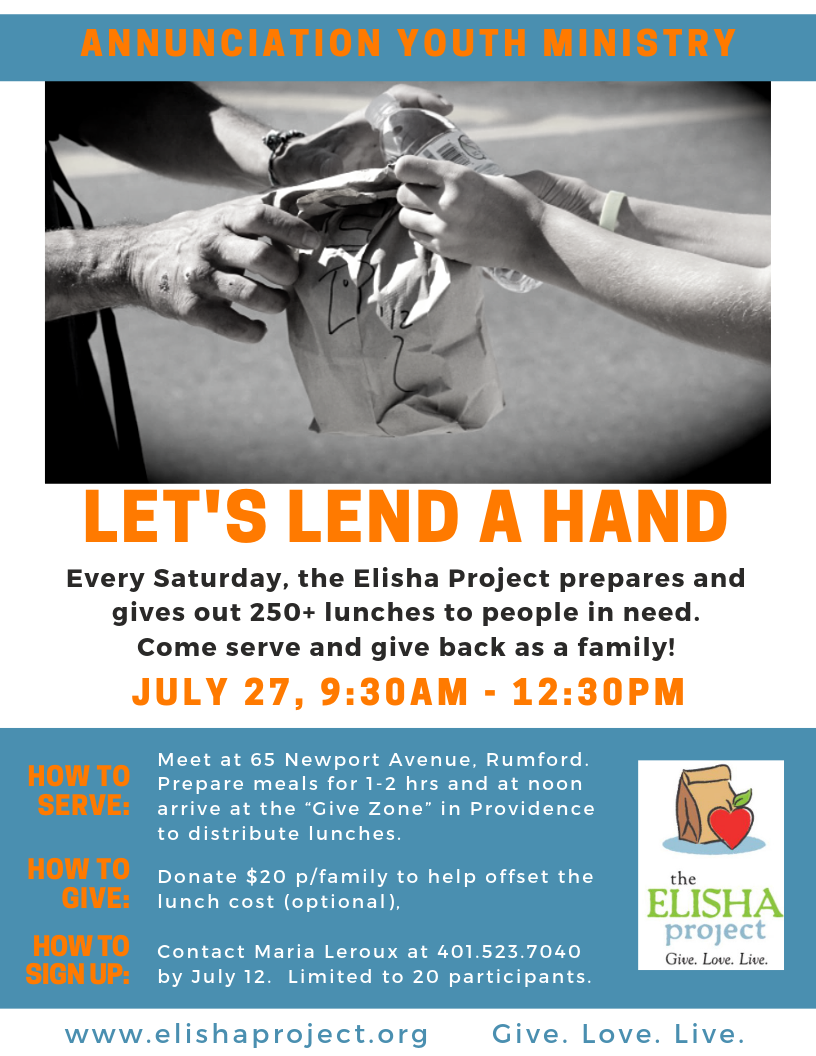 June 15, 11 AM to 1 PM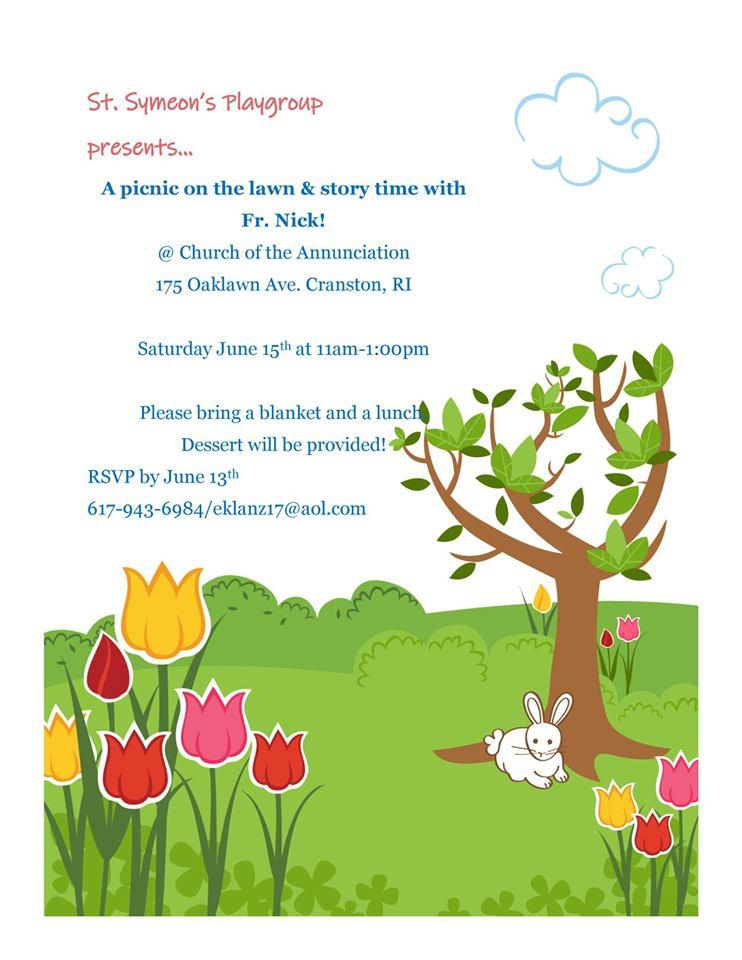 June 6, 11, 20 & 23, ONCD Survey Focus Group Discussions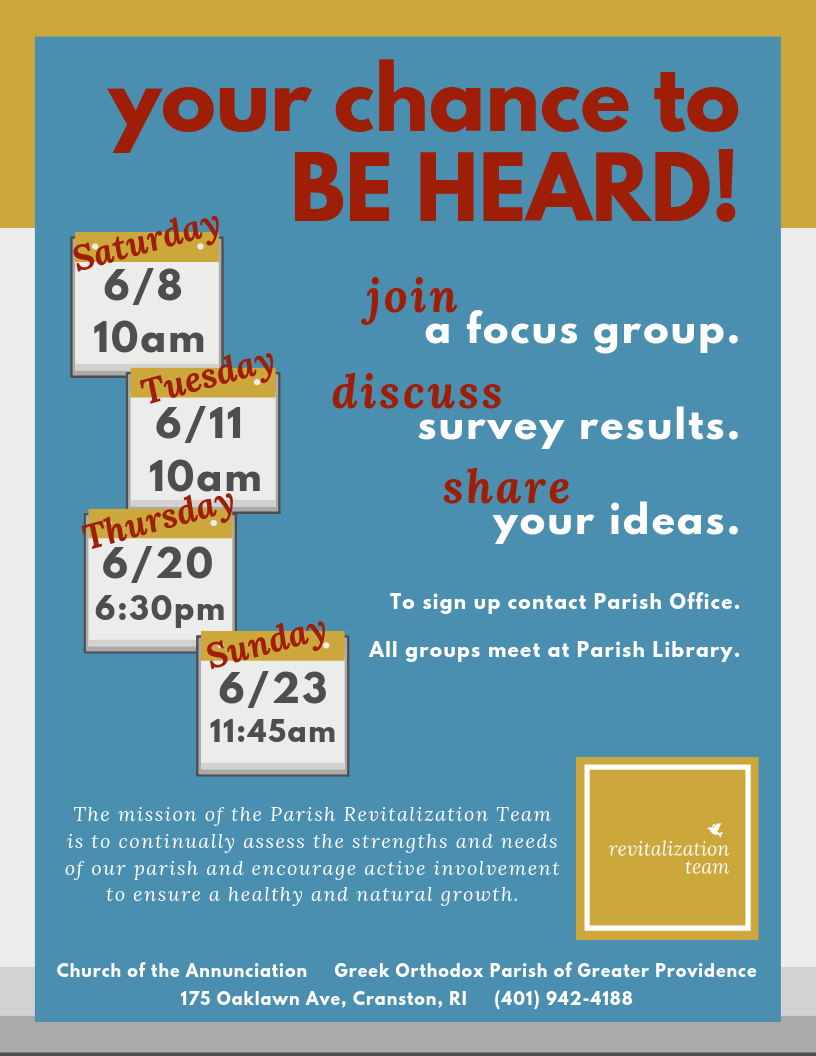 Tuesday, June 25, 2019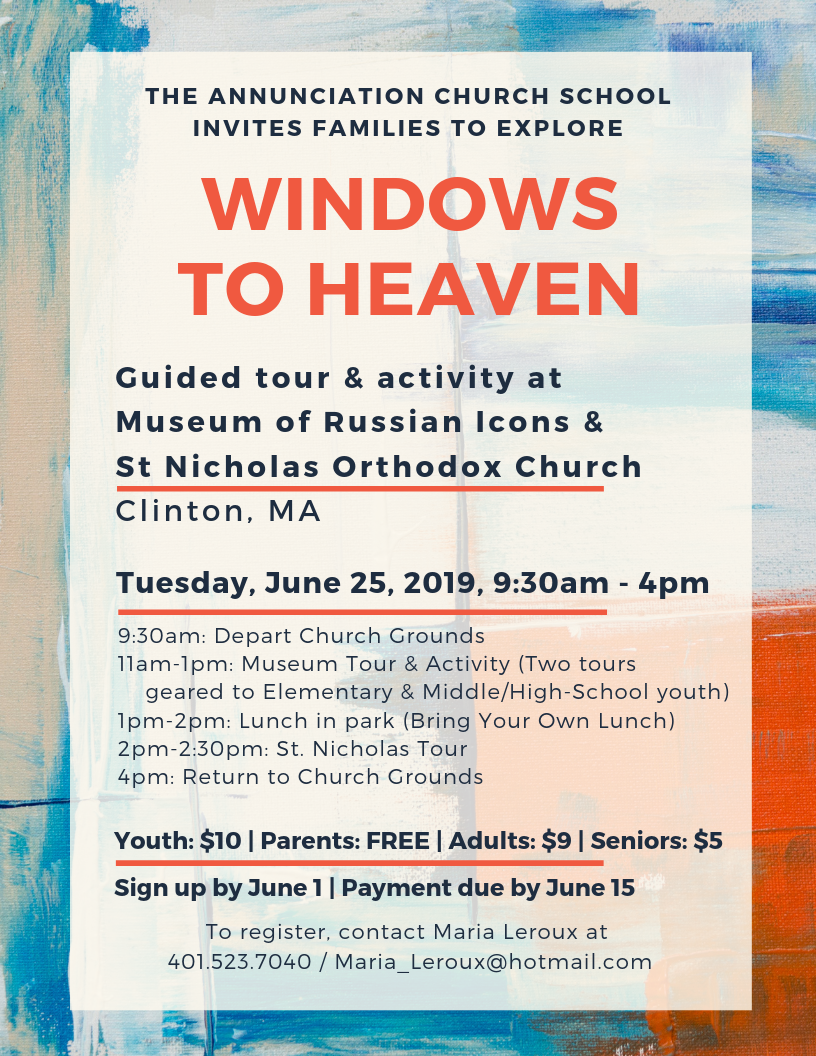 Thursday, June 27 at 7:30 PM
"Faith Does Not Change, but Expressions of it Does"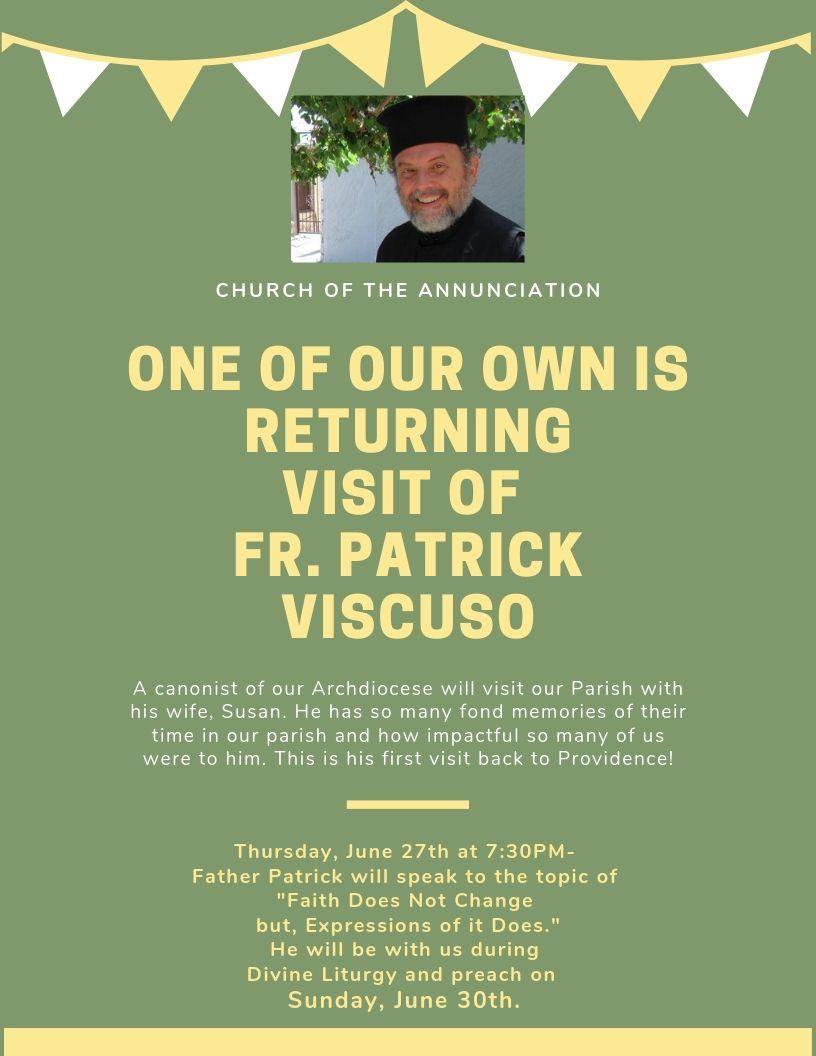 June 5, 2019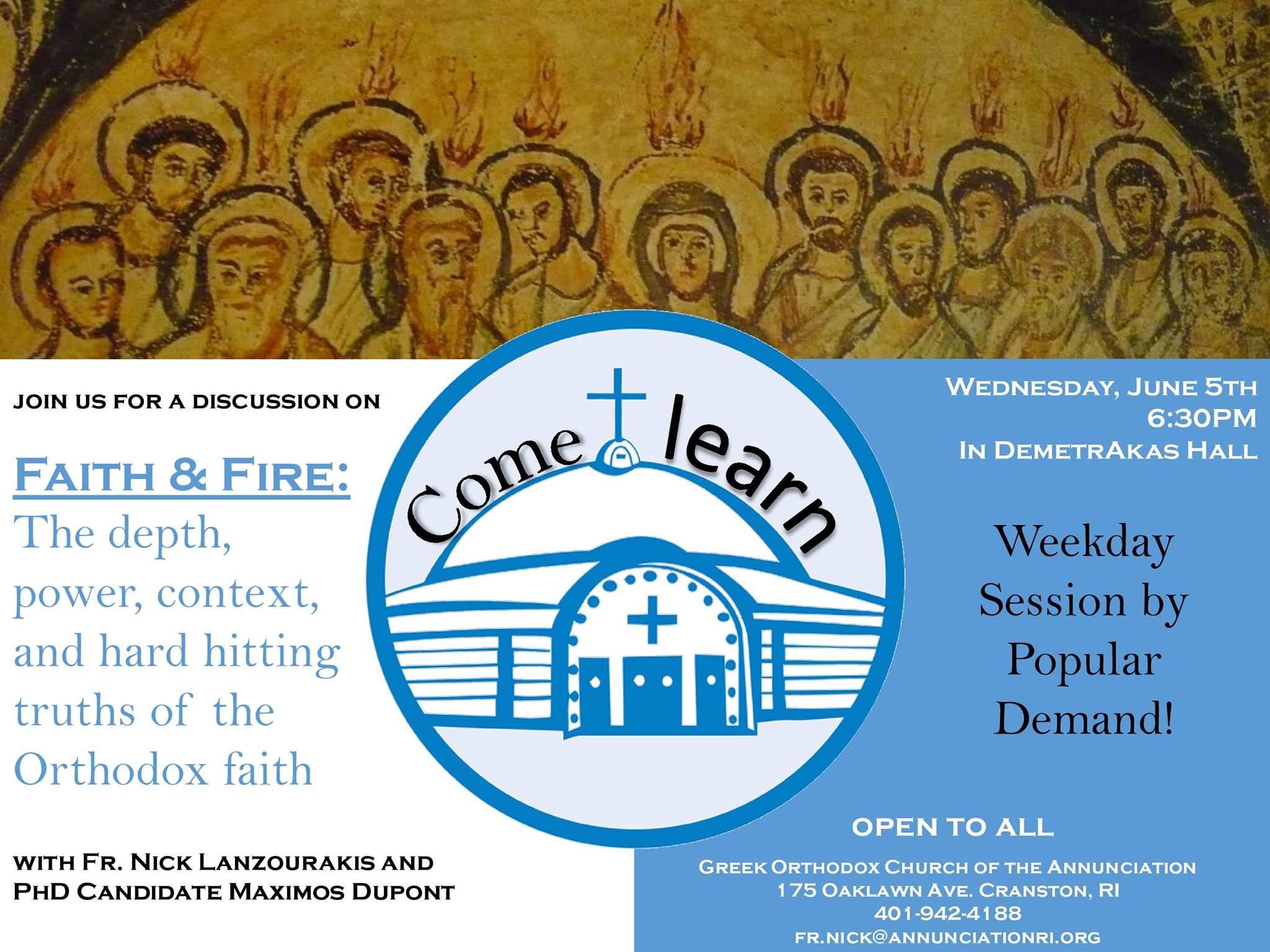 May 4 & 5, 2019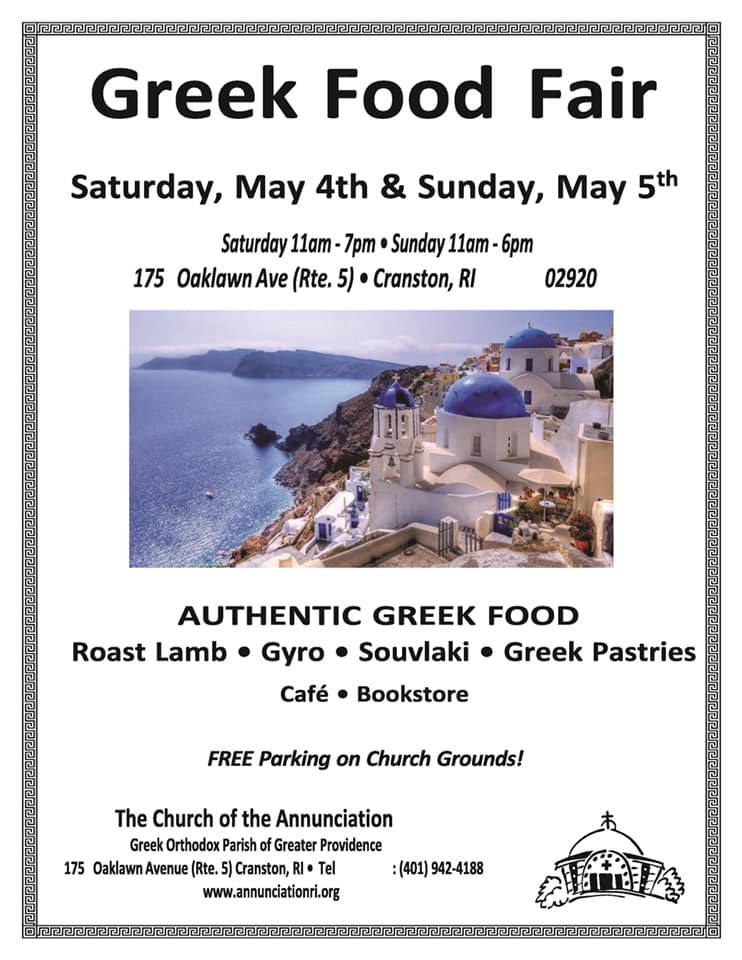 Past Events
March 24- Eve of the Annunciation Great Vespers
6:15 PM with a reception following Vespers in honor of our parish's name day.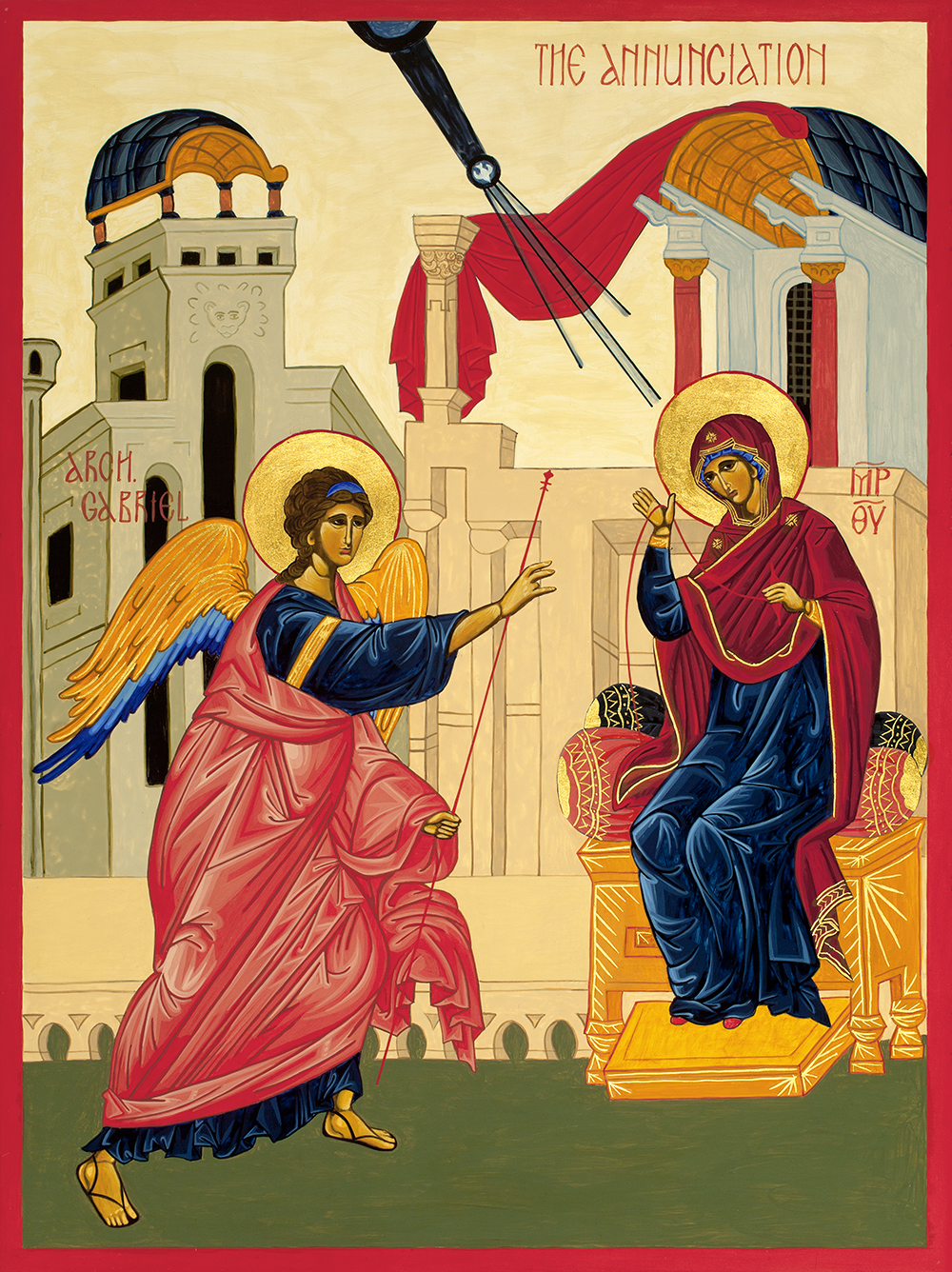 February 10 - Sanctity of Creation Gathering
6 PM at St. Michael's Ukrainian Orthodox Church, 74 Harris Avenue, Woonsocket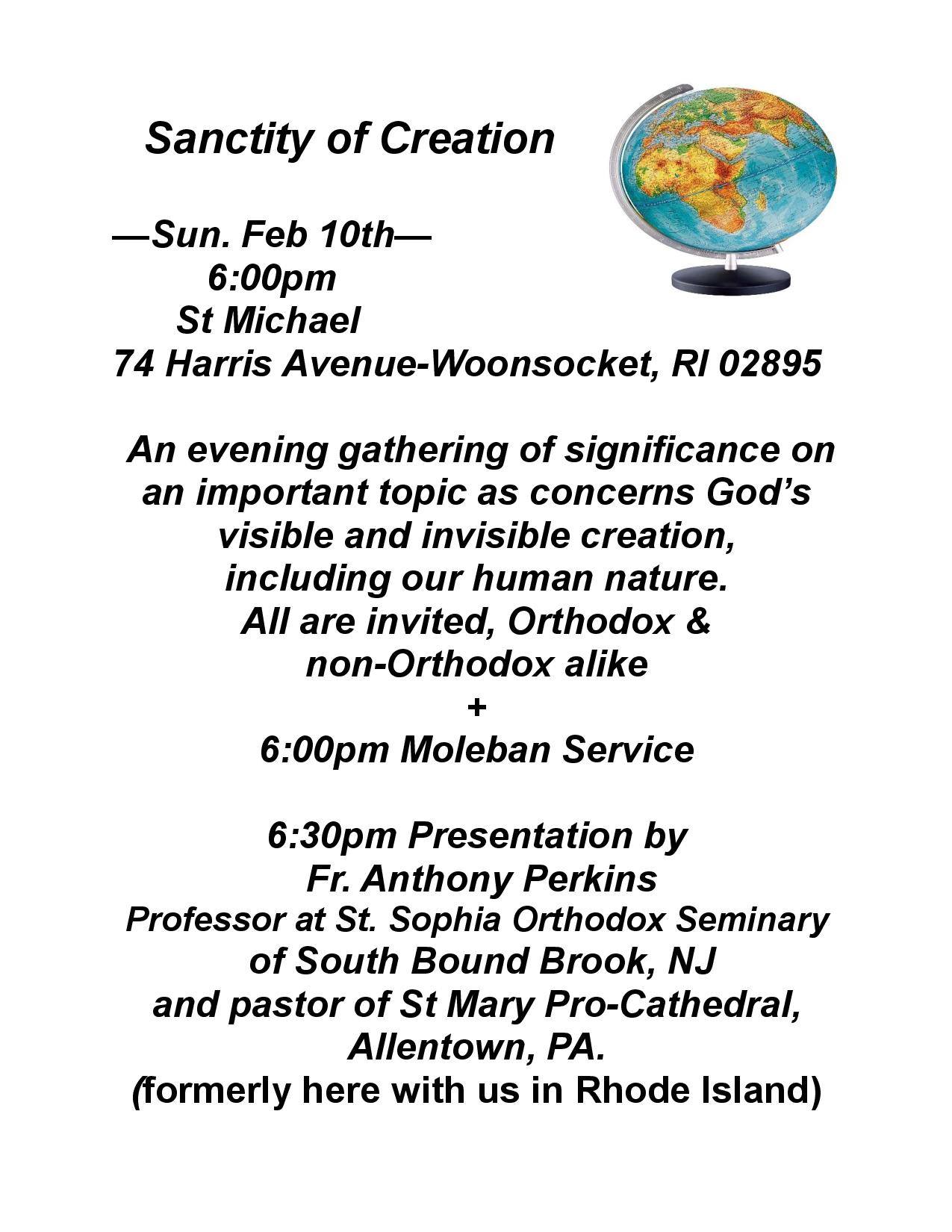 February 9, 2019 - Glendi Night, 7 PM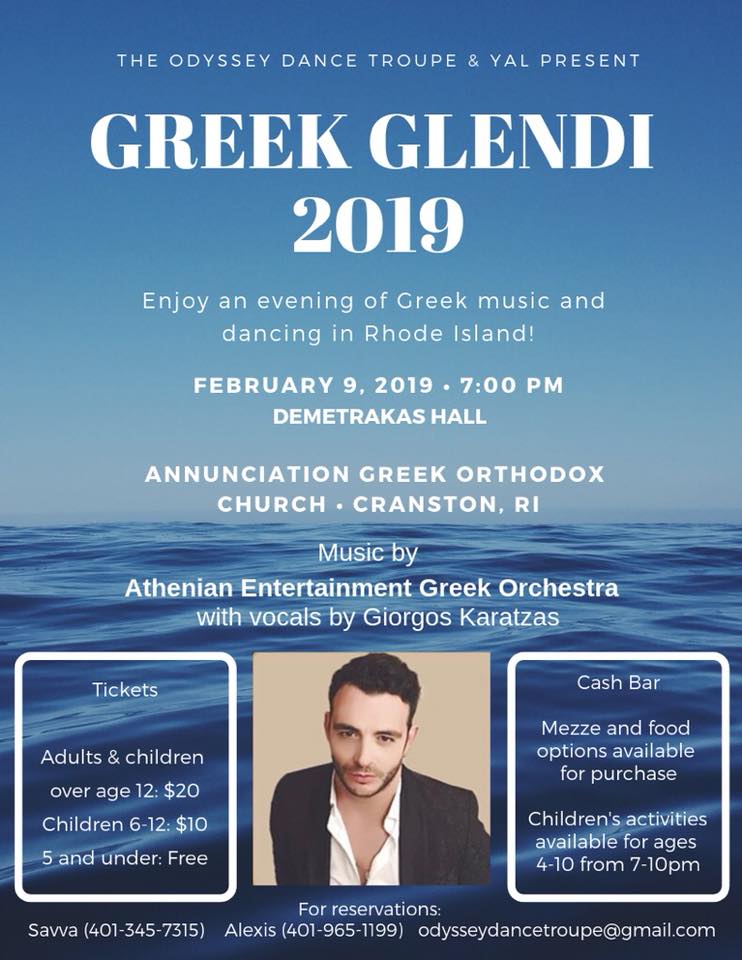 February 3, 2019 - Godparent Luncheon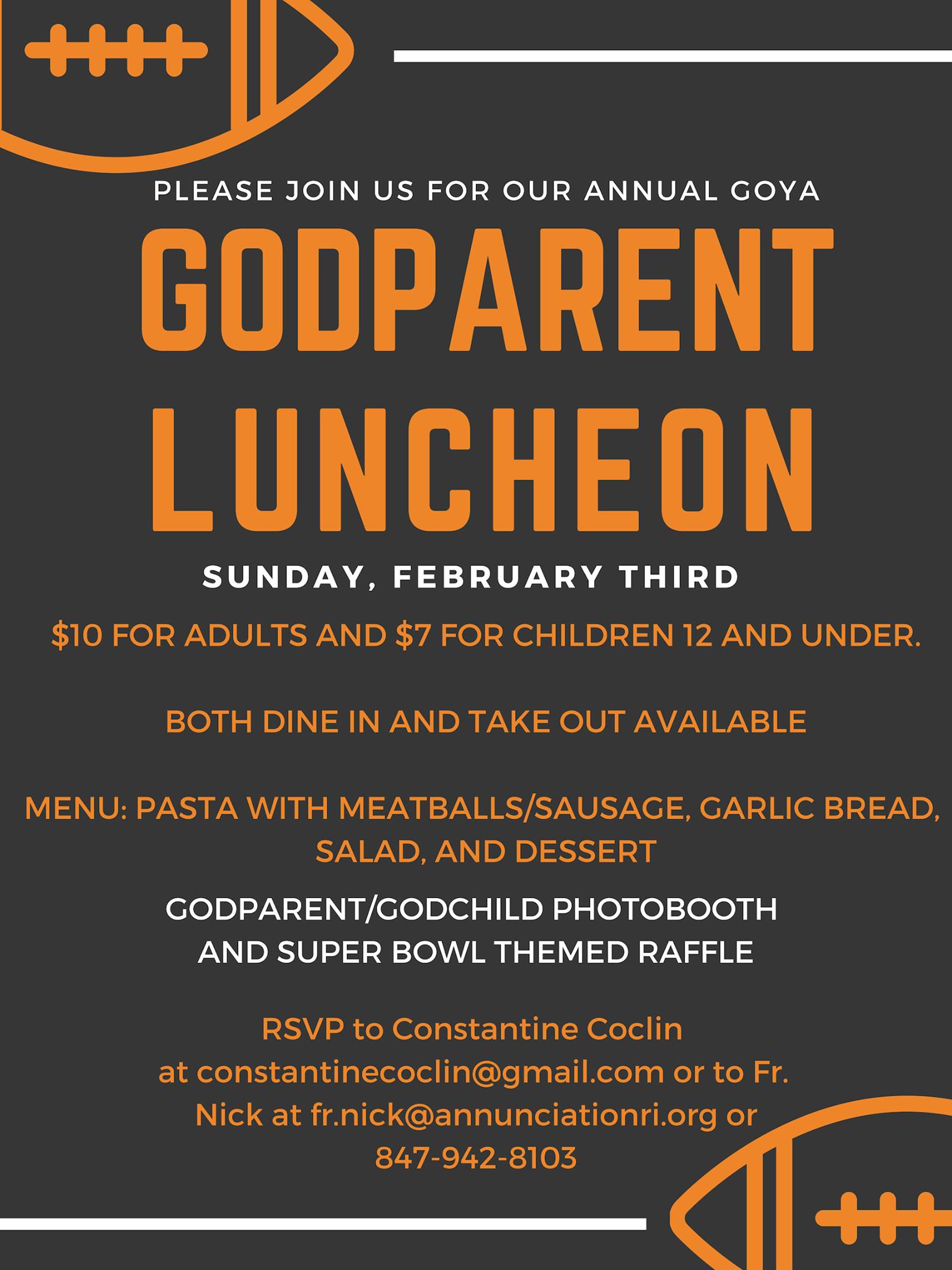 St. Nicholas Brunch, December 9, 2018, After Liturgy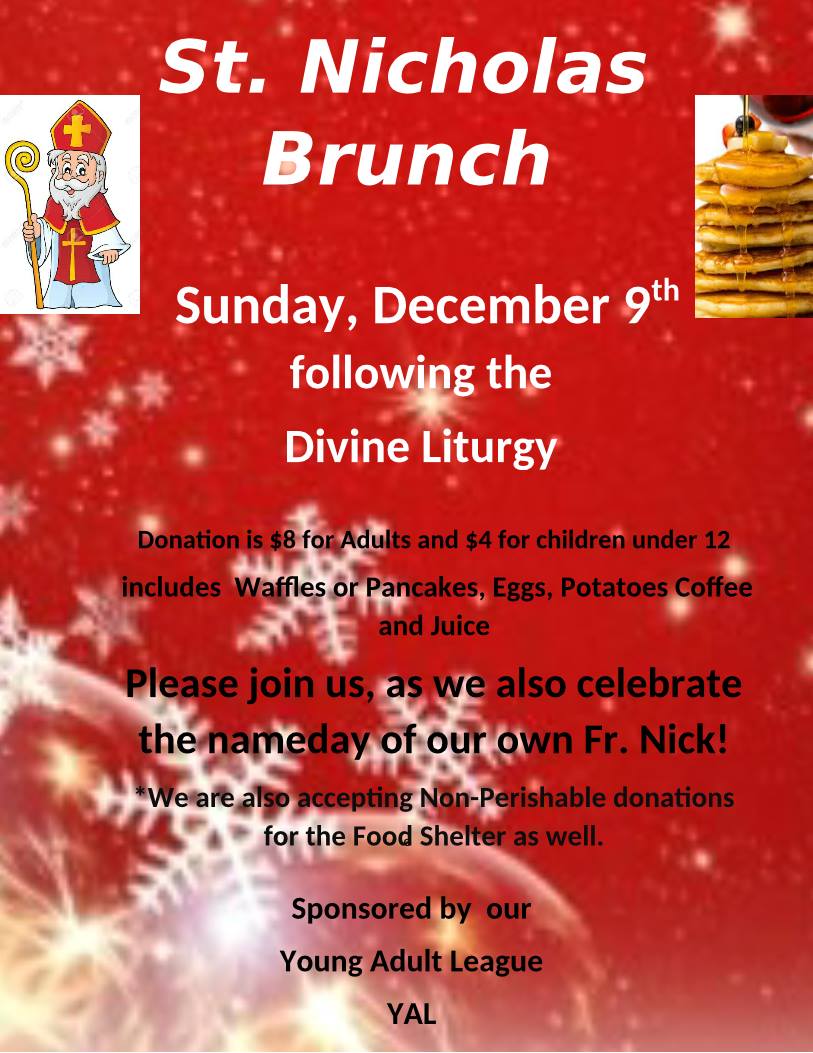 November 24, 2018, Cranston GOYA Dance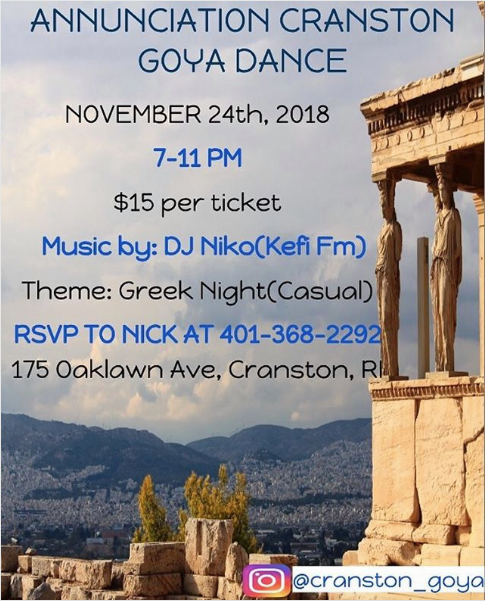 Ordination of Nicholas Lanzourakis to the Holy Priesthood - November 18, 2018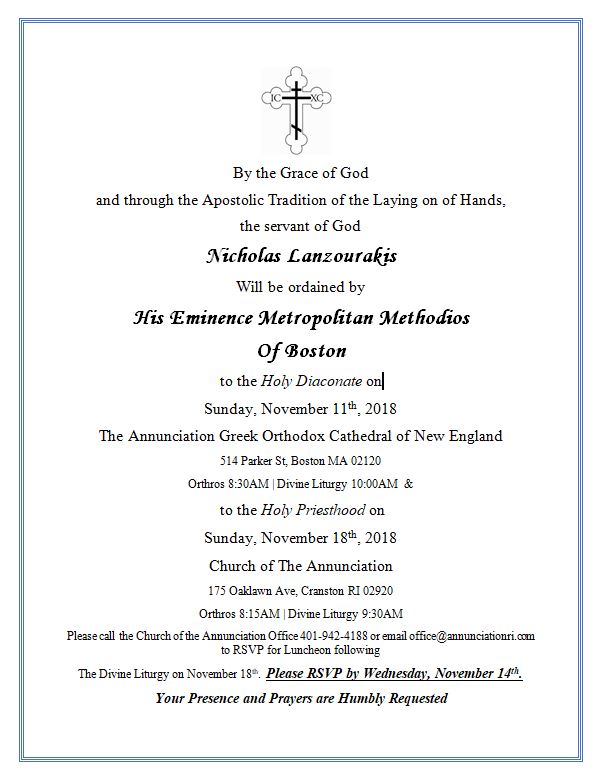 April 28 & 29
Saturday, 11 am to 7 pm & Sunday, 11 am to 5 pm
2018 Greek Food Fair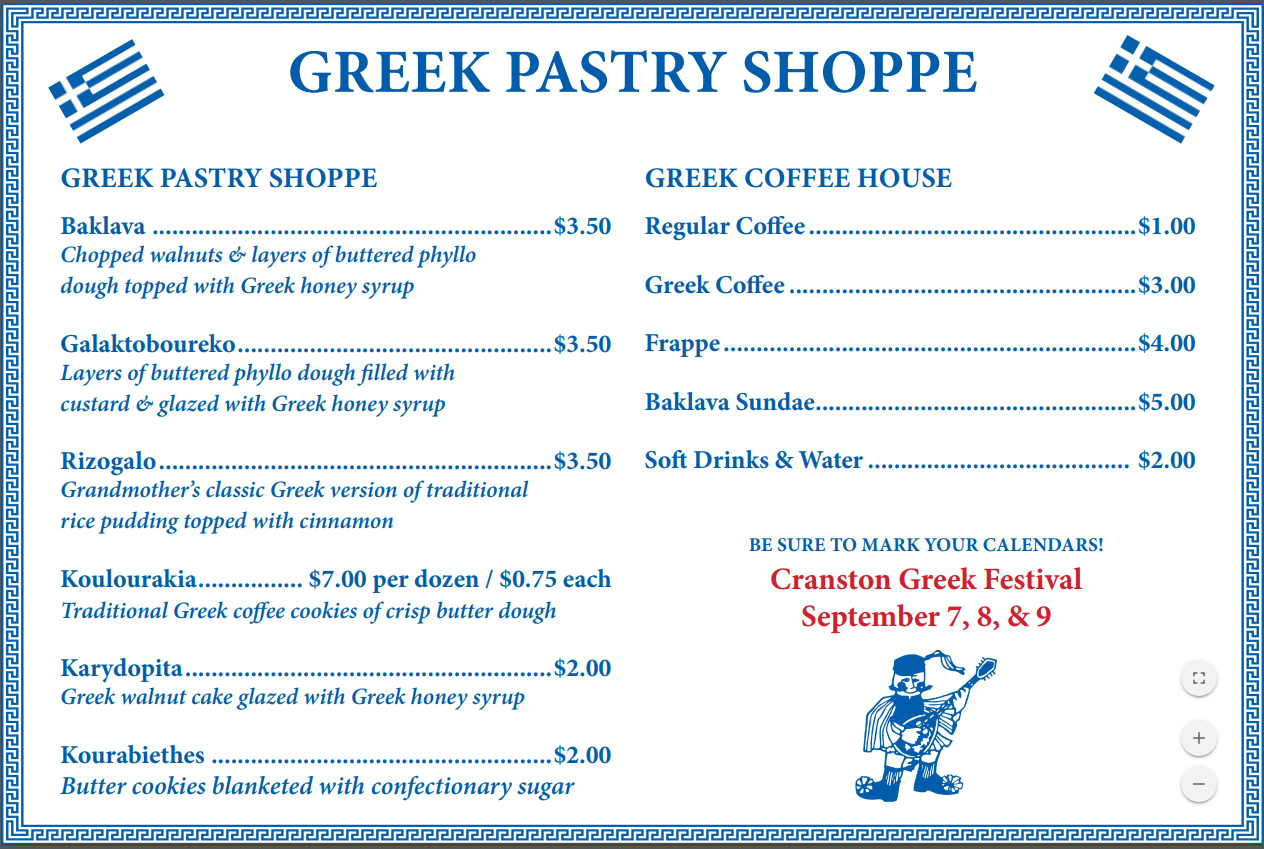 April 26, 2018 - 6 PM
Yvette Manessis Corporon
St. Demetrious Church, Weston, MA
If you are interested in attending, please contact Marianne Phelan at 401-743-7596.
We will have books available for purchase at Philoptochos meetings and in the book store.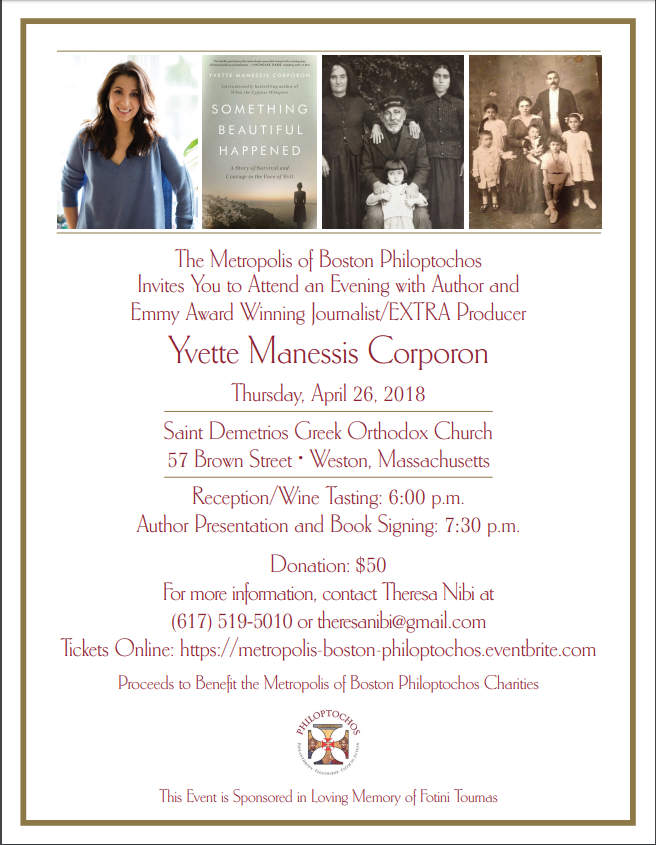 February 4, 2018

The Philoptochos has designated Sunday, February 4, 2018 as "Go Red Sunday". We ask that you wear Red to church on Sunday to promote women's heart disease awareness.
https://www.goredforwomen.org/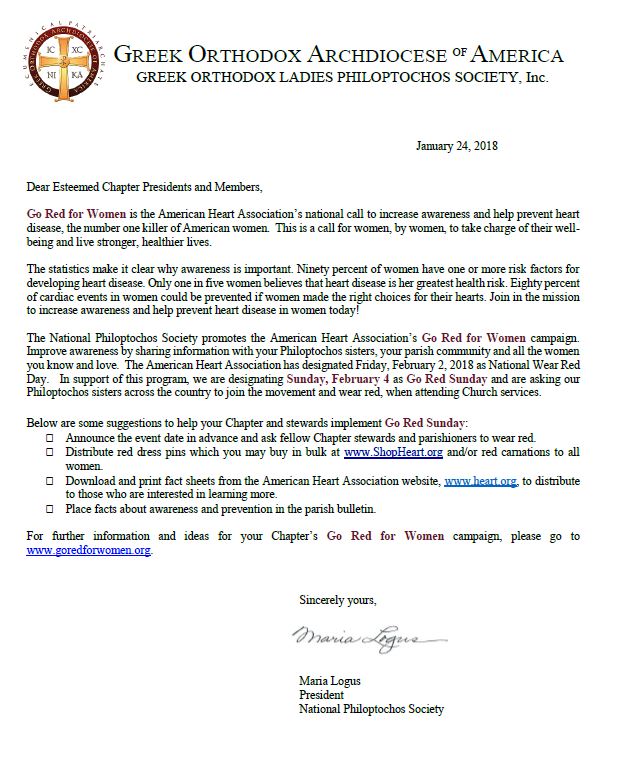 January 28, 2018 After Liturgy

Parenting Seminar "Raising Our Youth in Challenging Times"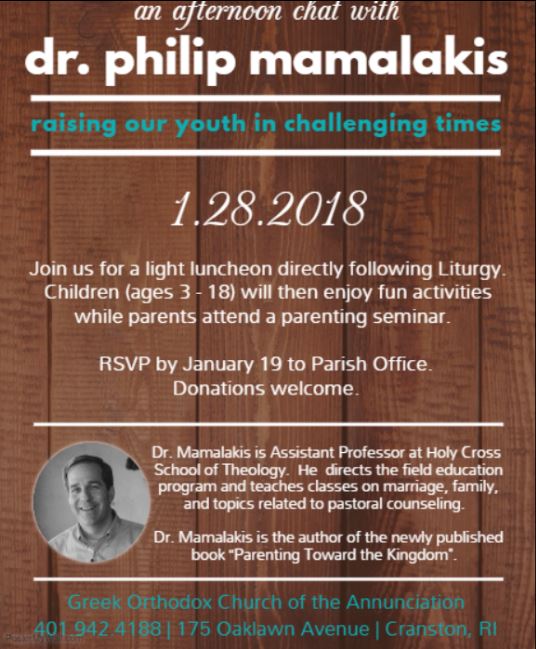 2017
Greek Food Fair & Christmas Bazaar - November 4 & 5, 2017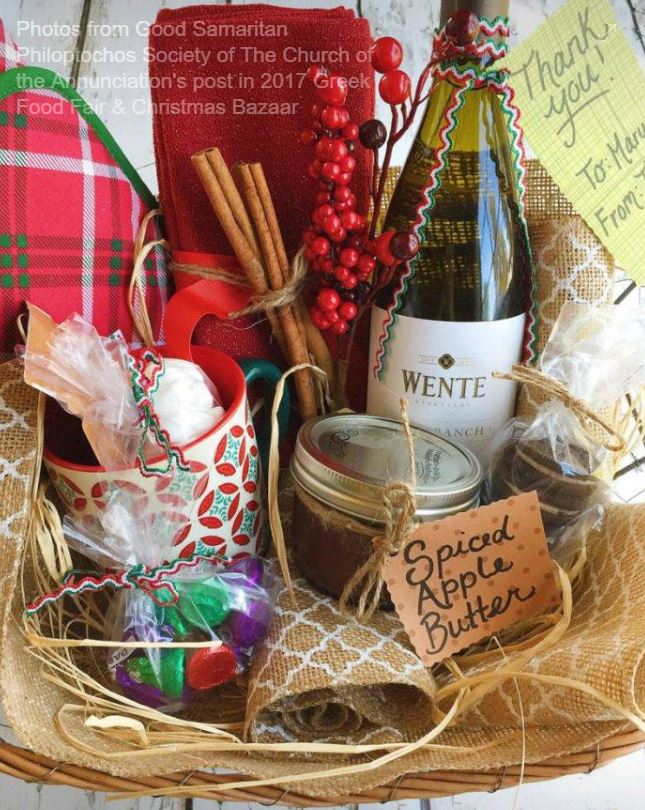 Serving delicious food & pastry featuring Roast Lamb, Gyros, Souvlakia, Greek Baked Macaroni, Baklava, Rice Pudding & More

Jewelry
Agora
Handcrafts
Raffles
Greek Pastry
Religious Book Store
White Elephant
Vintage Treasures
GIFT BASKETS
~~~~~~~~~~~~~~~~~~~~~~~~~~~~~~~~~~~~~~~~~~
A Special Screening: "Beneath The Olive Tree"
Friday October 27 - 7 PM
$5 Admission

Narrated by Academy Award Winner Olympia Dukakis.
"Beneath the Olive Tree" is based on secret journals found buried beneath an olive tree on the island of Trikeri, which served as a concentration camp during the Greek Civil War (1946-1949).

The journals, buried for close to three decades, tell the incredible stories of the women exiled in the camps.

Director Stavroula Toska takes the journey from New York to Greece to shed light on a part of modern history the world knows very little about, and in the process discovers a family secret that shakes her to her core.

ADMISSION $5 at the door

REFRESHMENTS will be served
Open to all, bring your friends
______________________________________________
6 Local Church Choirs Perform
Sunday Night, October 22 at 6 PM
Location
Sts. Sahag & Mesrob Armenian Church
70 Jefferson Street, Providence