Triodion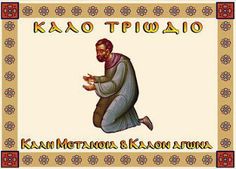 TRIODION - A QUICK LOOK - by Fr Andrew George
The Triodion Period is the period of time in our Orthodox Liturgical year that encompasses 3 segments of time, that of the Pre-Lenten cycle, of Great Lent itself and of Holy Week.
(The word "Triodion" literally means "3 odes" referring to a series of hymns that are sung, but also applying to the 3 segments of time and the associated observances in each of these time segments.)
The Triodion Period begins on the 4th Sunday before Great Lent, usually between late January to early March, In 2018, it began on Sunday January 28
During this period, the following occurs:
1. A book, called "The Triodion," is used in the church services. There are special hymns and readings assigned to the service. This book is used throughout the Pre-Lenten period, through all of Lent, and through Holy Week, up to Holy Saturday night.
2. There is a special service known as "The Saturday of Souls" (Memorial Saturdays) that are observed in which we commemorate and remember our departed relatives.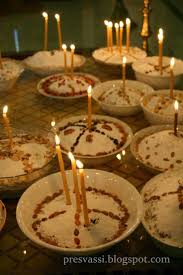 Two of these services are held during the Pre-Lenten Period, and one more is celebrated on the First Saturday of Lent. In 2018 the dates are:
Saturday, February 10 / Saturday, February 17 / Saturday, February 24
3. Each of the four Sundays of the Pre-Lenten Period have special themes and Bible Readings. Each Sunday initiates the week. Certain observances occur on certain weeks. (See separate leaflet)
======================
The Triodion Period begins as a three week Period of Preparation for Lent (having 4 specific Sunday observances), that continues on through Great Lent with its own new series of Sunday observances and then includes as well, Holy Week, that recounts the last days of Christ's life.
The Triodion is also a book used during the period of preparation and also during Great Lent and Holy Week.
During the three weeks of this first portion of the Triodion Period:
1. Various themes are presented to prepare us for renewal, to get us thinking
2. We give special remembrance to those who have died.
3. We prepare our bodies and stomachs to fast by gradually beginning to fast more thoroughly from various foods during various weeks
4. We hear our Lord's teaching about the topic of forgiveness, fasting & treasures...... (Matthew 6: 14-21)
"If you forgive men their trespasses, your heavenly Father will forgive you; but if you do not forgive their trespasses, neither will your heavenly Father forgive you, your trespasses."
"When you fast, anoint your head and wash your face that your fasting may not be seen by men......and your Father who sees in secret will reward you."
"Do not lay up for yourselves treasures on earth, where moth and rust consume and where thieves break in and steal; but lay up for yourselves treasures in heaven, where neither moth nor rust consumes and thieves do not break in and steal. For where your treasure is, there will your heart be also."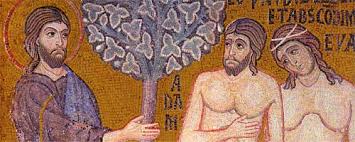 A BLESSED TRIODION TO ALL
Fr. Andrew George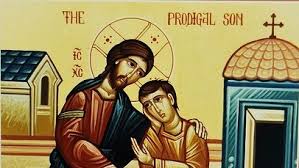 TRIODION BEGAN SUNDAY JAN 28, 2018
1st Sunday's theme- Humility and the correct observance of the teachings of God. observing without pride or looking down upon others. We are called upon to see ourselves as we truly are and compare ourselves only to God and not to other people. Read - Luke 18:9-14) - Publican & Pharisee
Special observance of the week - No fasting (not even on Wednesday & Friday) in preparation of the strict 40 day fast period ahead.
2nd Sunday's theme- (Feb 4) Return and forgiveness to someone who has done wrong; we should not "rub it in" to someone who is trying to correct their mistakes. We are called to come to "ourselves" as did the prodigal to see if we also may be "far" from the Father's house and if so, make movement to return.
Read - Luke 15: 11-32- The Prodigal Son
Observances of the Week:
a. Wednesday and Friday are a fast day
b. Saturday is the First Memorial Saturday
3rd Sunday's theme- (Feb 11) The Last Judgment of Christ when He returns to the earth again; what will happen to mankind and what is expected of mankind. We are called to see Christ in every human being and serve those in need by doing for them, not simply intending to do, but actually doing, so as to bring Christ's embrace to them. Read - Matthew 25: 31-46
Observances of the Week:
a. It is "Meat Fare" day, known as "Apokries"(meaning, "from meat") in which we eat meat for the last time until Easter. All other foods are eaten, Mon-Sat except for meat.
b. Saturday is the Second Memorial Saturday
c. Traditional Apokries parties (Mardi Gras) are held on the weekend and features meat products. (At times the Mardi Gras might be held on Cheese Fare Sat and features dairy products).
4th Sunday's theme- (Feb 18) Forgiveness of each other of sins and offenses. Personal renewal with mankind (with each other), so as to prepare for the personal renewal with God during Great Lent.
A sub-theme is: that of Adam's exile from paradise. We are to identify ourselves with Adam, lamenting our loss of the beauty, dignity and delight of our original creation, mourning our corruption in sin. Read - Matthew 6: 14-21
Observance of the Day:
a. Asking forgiveness of those whom we know we have offended and done wrong. In some parishes "Forgiveness Vespers" is offered in the evening.
b. Eating dairy and cheese products to prepare for eating of "pure foods" the next day.
+ + +
The Next Day - Beginning of Great Lent - Kathera Theftera - Pure Monday or Clean Monday:
(in 2018 – February 19).
The first day of Great Lent. The Compline Service is commonly served on Pure Monday evening. (In some parishes every Mon of Lent). Special Lenten Services continue throughout the week (especially Wed. and Fri.) throughout Lent and at times, other days as well.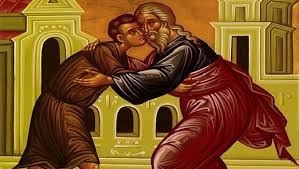 Food fasting is strict, (based on age and health) no meat, fish or dairy products; oil and wine are permitted on Sat. & Sun. The same pattern is followed overall through Great Lent with certain exceptions based on calendar observances of particular major commemorations.
The 1st Saturday of Lent is the 3rd Memorial Saturday,
also known as "The Miracle of St. Theodore with the Wheat."
WHEN SALVATION COMES TO YOUR HOUSE - Zacchaeus Sunday 2018
Luke 19:1-10
We have discussed in the past how 24% of American's today, do NOT have an affiliation to any religion....the so-called "nunes" - nothings. I suspect that one of the reasons "why" some people do not take the Christian faith seriously is, that those who profess to be Christians do not always live out their faith with integrity.
- For example, many people who identify themselves as followers of Christ in our society, give more time, energy, money and even direct attention to their favorite hobbies, athletic teams, politicians, entertainment, and self-centered desires of whatever kind......than to living faithfully in how they treat other people.
- When Christians appear to live in ways that are no more virtuous than those of people without any religious faith at all, it is no wonder, that some have little interest in, or respect for our Christian faith or Orthodoxy in particular.
- There needs to be something DIFFERENT in being a Christian, something BETTER then the average person, of no-faith.
That is precisely why we all have a lot to learn from Zacchaeus, in today's Gospel reading, whose life was changed so profoundly, by his encounter with Jesus Christ. The story of Zacchaeus' conversion, is one of curiosity first, of yearning for something better and of repentance. All of these sometimes hard for us - but OH SO necessary. Thus this bible pericope can be so difficult. I share my words today with you, with great love in my heart for you and for your spiritual growth......
- Zacchaeus was a traitor to his fellow Jews, because he collected taxes for the Romans, who were occupying his country. He was a chief tax collector and quite wealthy, because he took more than was required from his own people. He lived in luxury from what he stole in the name of a hated foreign power.
Though his way of life was about as far from God's requirements as one could get, Zacchaeus wanted to see the Lord as He entered his town.. A short little man, he had to climb a sycamore tree in order to be above the crowd and get a decent view. There were probably some people in the crowd that day who would have liked to see him fall out of the tree and break his neck.
Zacchaeus certainly knew what people thought of him. So just imagine how shocked everyone must have been when the Messiah of Israel called out to this wicked man: "Zacchaeus, make haste and come down, for today I must stay at your house."
Zacchaeus, the tax-collector did the unthinkable: He repented of his own free will. Yes, before Christ said or did anything else, Zacchaeus repented. He accepted the truth about himself, that he was a criminal exploiter of the needy.
To make things right, he gave half of what he owned to the poor and restored four-fold what he had stolen from others. In that moment, this despised and miserable man began to turn his life around. And Jesus Christ accepted the sincere repentance of this sinner, proclaiming that salvation had come to this son of Abraham, for Jesus came to seek and to save the lost.....this was in motion here with Zacchaeus.
- If we ever wanted an example, of the difference that it should make, in the life of a human, when they encounter Christ, --- this is it. Though it may be hard to see, Zacchaeus' story as a story for us (and) of us - it is an event- for all of us.
- As I said earlier, this can be a "hard" bible passage as it confronts us directly before the Triodion begins which takes us into Lent. These opening weeks before Lent are like "tailgating" that so many do when you go to the athletic games up at Gillette stadium. These upcoming bible passages are wake us up, SO WE CAN IMPROVE.
- Remember - curiosity - yearning - and repentance (Metania - change of mind) with actions that prove it.
The Savior has appeared in our world, born and baptized for our salvation. He enters not only our world and our humanity in general, but wants to commune personally with everyone He created. As He says,
"Behold, I stand at the door and knock;
if anyone hears My voice and opens the door,
I will come in to him and will dine with him, and he with Me." (Rev. 3:20)
He comes to fulfill the purposes for which He created food and fellowship to begin with, namely, to share Himself with us, to make us participants in His eternal, blessed, and holy life.
- He knocks at each of our doors beloved! Do we know it is Him? THINK ABOUT IT. You go to open your front door and you see Jesus there! What do you do next? Do you boast and say how great you are? Do you fall down on your knees? Do you confess your sins?
What did Zacchaeus do (as we read in the Gospel)? He took some very practical and visible steps to prove his repentance----that required him to sacrifice what he loved most, his money and comfort. He did what justice required for the victims of his crimes and then some, returning four times as much as he had taken. And he gave half of what he had to the poor, regardless of whether he had stolen from them personally.
In response to the Savior's overwhelming mercy toward him, Zacchaeus showed that same abundant grace toward others. He not only received the Lord into his house, but into his life–from the depths of his soul.
Could the same be said of you and me?
- One way of applying these lessons to our lives is to ask in what ways we need to open ourselves to fuller communion with Christ, to a deeper and healthier relationship with Him. Since how we treat our neighbors is also how we treat the Lord, we should ask with whom we need to make things right according to justice and then do even more for them. (Matt. 25:33ff.)
- We need to prayerfully consider what change is in order in our lives, (OH SO HARD TO DO - BUT SO BENEFICIAL)..... because of Jesus Christ's gracious entrance in our home. Zacchaeus is such a wonderful example of a sinner who received the Lord and became a shining beacon of holiness. He did so by deep, genuine, personal repentance that went to the heart of who he was before God and changed how he related to other people in practical ways.
If we will follow his example, then we will be in intimate communion with Christ each day of our lives, always offering ourselves to Him in every thought, word, and deed. We will become a channel of blessing to others, and even skeptics. YES THOSE 24% of our society around us, who will notice that salvation is real to us AND AS A RESULT, WE LIVE THE TEACHINGS OF JESUS, who has come to our house.
And then - hopefully, then, they may be so curious about what has happened that they will even climb a sycamore tree in order to get a better view!
Fr. Andrew George